Food Delivery App Development Services
Food delivery apps have changed the way people order food. Food delivery has become easier and faster. With just a few clicks, you can get instant food at your doorstep. On-demand food delivery apps like Uber Eats and DoorDash have made it convenient for the general public to order food from anywhere and get instant delivery. Do you want an app like Uber Eats? Then you have come to the right place.
Our food delivery app development services are one of a kind. We have established ourselves as a top food app development company in the US with our constant hard work and dedication. The rising popularity of on-demand food apps has propelled the food industry. The US is the second-largest online food market after China. The worldwide online food industry is forecast to reach 1 trillion US dollars in 2023.
Exploit the growing popularity of the online food industry with our food delivery app development services. Let us build a creative online food delivery app for you and attract multiple customers. Whether you are a small restaurant, operating a cloud kitchen, or want an on-demand app like Uber Eats, we can fulfill it all.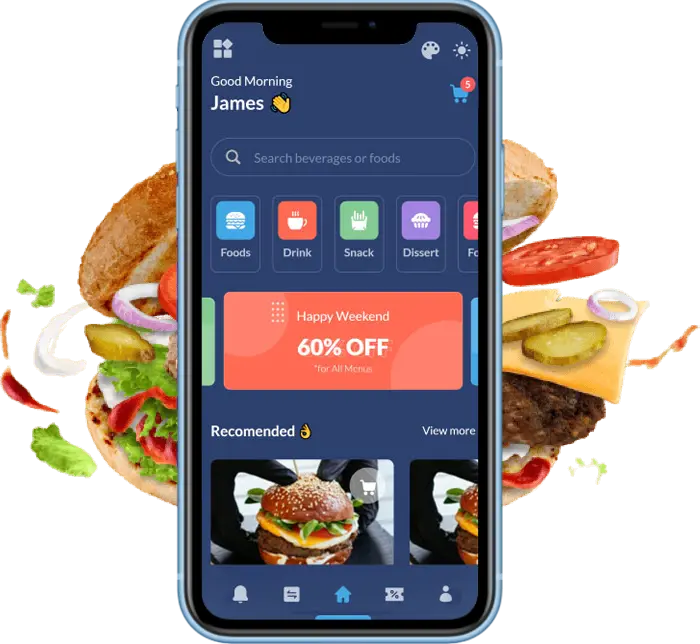 We Build Online Food Delivery Apps For

Restaurants
Our restaurant mobile app development company is an expert at creating apps that help restaurants manage and dispatch daily orders. Delivery apps help restaurants take orders and deliver them more efficiently.

Food trucks
Food trucks are everywhere. The rising popularity of food trucks requires a dedicated app that can help them better manage their day-to-day tasks. From inventory to finance management, an app can streamline the various functions.

Cloud kitchens
Cloud kitchens have also gained popularity in recent years. With a dedicated cloud kitchen app, the owners can better take orders and dispatch them on time. Possible mistakes prone to humans can be eliminated.

Fast food joints
Fast food joints like McDonald's and Domino's are popular due to their customer service. A consumer-centric app can let you serve your customers better, rationing them in the long run.

Food delivery aggregators
Are you planning to have an on-demand app like Uber Eats and DoorDash? With our on-demand food delivery app development, we can transform your idea into a money-making solution.
Features of our Online Food Delivery Apps

Social media login
To save your customers from remembering too many login details, we offer social media logins for your app. A customer can easily log in with their existing social media credentials.

Food tracking
Customers usually get impatient if an order gets delayed. Constant calls can hinder your operations. An advanced food tracking feature will help customers track the live location of their orders.

Ratings and reviews
Ratings and reviews help customers decide whether to order a particular dish or choose a particular restaurant. With the integrated feature of ratings and reviews, customers can decide much better.

Restaurant profiles
An app with a restaurant profile allows customers to access the necessary information about any restaurant. This can be restaurant descriptions, locations, menus, ratings, open hours, etc.

Order/cancel food
This feature allows easy ordering and cancellation of food. Easy cancellations allow customers to cancel their order anytime if they change their mind. The cancellation policy may vary from restaurant to restaurant.

Discounts and coupons
Discounts and coupons attract new users and reward the loyal ones. Adding discounts and coupon features can help your app's popularity grow manifold. Get this feature in your app and let the customers roll in.

Push notifications
Almost all apps have a push notification feature. Push notifications inform app users about their order status, rating requests, payment methods, etc. They even inform the users about upcoming discounts and deals.

Multiple payment options
Multiple payment options give users the flexibility to pay at their convenience. With various payment options. It becomes easy to serve customers with different payment preferences.

AI chatbots
AI chatbots make it easy for customers to get answers to small queries. Not all queries need to be solved by customer care personnel. This not only expedited the process but also helped save resources.

Order history
With a feature for checking order history, customers can easily check their past orders and repeat them if required. This helps a customer save time by finding the same restaurant and the same dish.

Boost Your Performance With Solutions That Drive Results
With immense expertise and skills in websites, web apps, and software development, SISAGIN stands to bring a change to your organization. Check out our services and hire us today to revolutionize your online presence.
Explore All offers

Android App Development
Our Expert Android app development services are tailored to your needs. Transform ideas into powerful, user-centric mobile experiences with our seasoned developers.

Blockchain App Development
We offer Cutting-edge blockchain app development services to harness the potential of decentralized technology with our expert developers. Empower your business for the future.

Wearable App Development
We are leading the way in wearable app development Services. Explore our expertise in crafting innovative, user-centric applications for the latest in wearable technology.

Mobile Game App Development
Unlock the world of gaming with our mobile game app development services. Immerse players in captivating experiences with our expert game developers.
Key Features
Innovation at the core

Tailor-made solutions

100% quality assurance

Appealing UI/UX


Secure and scalable apps

Futuristic apps

Maintenance and support

Technological integrations
Why Choose SISGAIN For Restaurant App Development?

Scalable solutions
Our restaurant mobile app developers build scalable food delivery apps. With the latest technological advancements, we build solutions that work seamlessly even with increasing users and workloads. We make sure that your app works seamlessly, even with high traffic.

Customized apps
We tailor-make apps based on the unique requirements of each client. We discuss your project at length to deeply understand it. Our project managers thoroughly discuss each aspect of the app with the client and assign tasks to the team based on their expertise.

Continuous support
We maintain open and transparent communication throughout the development of your app. From idea development to deployment, we offer continuous support to facilitate the seamless launch of your app. Our support extends beyond the delivery of your app.

Time and cost-efficient development
We prioritize each and every client. We follow agile development methodologies to develop and deploy solutions faster and more cost-efficiently. Our restaurant app development process is fast and seamless.
Fully Customized Digital Solutions For Your Business
On-Demand App Solution

Elevate your business with our custom app development solutions in USA, delivering on-demand app development solutions tailored to your unique needs.

E-commerce

Empower your online store with our custom app development services, creating seamless and user-friendly e-commerce app development solutions for your brand.

Food & Beverage Solution

Enhance the dining experience with our custom app development services in USA, offering innovative food and beverage app development solutions for your business.

Pickup & Delivery Solution

Streamline your operations with us we're providing efficient pickup and delivery app development solutions tailored to your business needs.

Blockchain Development

Explore the future of secure, decentralized technology with our app development, delivering innovative blockchain app development solutions for your business.

Internet of Things (IOT)

Connect and control IoT devices seamlessly with us, we can create intelligent app development solutions for your connected world.

Social Networking Solution

Build engaging and interactive social networks with our Best app development solutions, connecting users and fostering community engagement.

Healthcare & Medical Solution

Transform healthcare and medical services with our healthcare app development services, providing innovative app development solutions for better patient care and management.

Laundry & Home Services

Effortlessly manage laundry and home services with our custom app development, simplifying tasks and enhancing convenience for users.

Transportation Solution

Revolutionize transportation with our custom app development, delivering efficient and user-friendly solutions for seamless mobility experiences.

Real Estate Solution

Elevate your real estate ventures with us, delivering innovative app development solutions for property management and transactions in USA.

Banking & Finance

Empower financial institutions with our custom app development, delivering secure, user-friendly solutions for seamless banking and finance services.

Education & Learning

Transform education and learning experiences with our Educational app development, delivering innovative solutions for effective teaching and knowledge sharing.

Manufacturing Business Solution

Optimize manufacturing processes with our app development solutions, providing innovative solutions for improved efficiency and productivity in your business.

Enterprise Mobility Solution

Empower your enterprise with our Mobility App Development, delivering mobility solutions that enhance productivity and streamline operations.
Feel free to reach out to us with any additional questions or to learn more about our Food Delivery App Development Services!
SISGAIN delivered a food delivery app that exceeded our expectations. The user-friendly interface and seamless ordering process in our FoodEaze app have boosted our business tremendously. Kudos to the SISGAIN team for their outstanding work!
Michael Roberts
Thanks to SISGAIN, our food delivery app is now a customer favorite. The efficient tracking system and easy customization options have set us apart in the market. Great job, SISGAIN!
Jennifer Thompson
SISGAIN's expertise in app development is evident in our TasteBud Express app. Their attention to detail and responsiveness made the development process smooth and efficient. We couldn't be happier with the results.
David Mitchell
Testimonials
Check what our satisfied clients said
Discover the voices of our delighted clients from USA. See what they have to say about their experiences with us.