Telemedicine
App Development Solutions

4.7

out of

5
based on
7025
ratings.
Enhance your healthcare operations with our unmatched telemedicine app development solutions.
HIPAA Compliant Communication

Remote Scheduling and Appointments

Patient History Management

Online Medication Tracker

Audio and Video-enabled Conferencing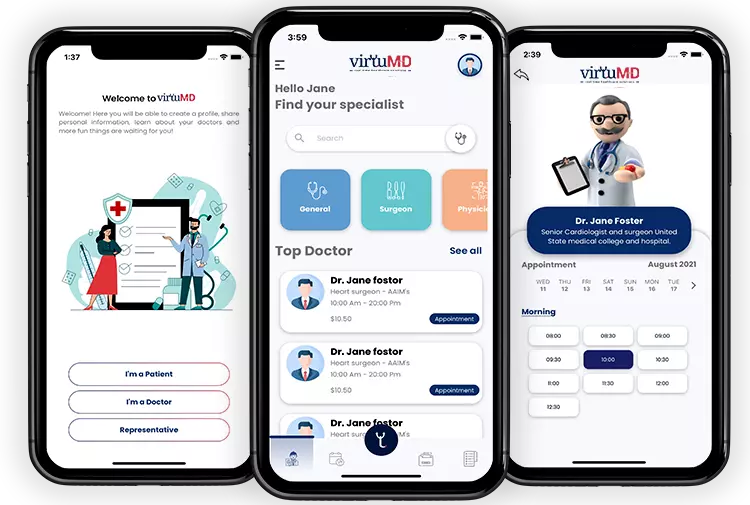 Need For Telemedicine Software Development Solutions
We are all aware of the significance of the healthcare sector in the current times. Since the widespread of the COVID 19 pandemic, there has been a visible urgency for virtual health solutions. These assist in reducing the risk of spreading or catching contagious diseases. In order to provide some assistance to our frontline workers in the medical centers, our telemedicine software developers have built a reliable app development solution. Our telemedicine application offers a dynamic integrated platform that helps connect patients with a specialist for remote medical consultations. This way, users are able to receive quality medical attention virtually anywhere and at any time.
Telemedicine Apps Impact On The Healthcare Industry
Since the arrival of telemedicine software system solutions, doctors and patients can have quick and easier access to one another. Healthcare institutions, medical clinics, and doctors are just a few clicks away from helping out their patients. That has helped the patients in saving their money plus time, which was earlier spent on traveling for physical doctor consultation. For most medical ailments, they can have a virtual consultation from the comfort of their homes. In addition to this, patients also receive e-prescriptions for their medical condition. The white label telemedicine app development services have benefitted both doctors and patients with their uncomplicated UI/UX.






Advanced Telmedicine App Development Solutions
The healthcare industry has evolved a lot over time. One of its vital aspects is telemedicine. This progressive healthcare field offers versatile telemedicine application solutions with a manageable framework. From scheduling an appointment to viewing our medical records, everything is available to us conveniently.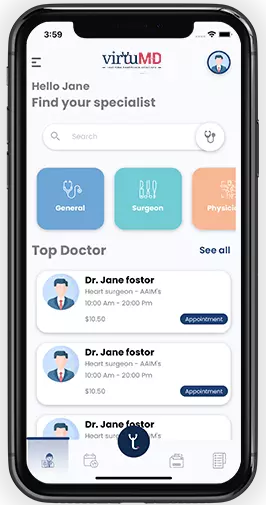 Clinical Management System Software

Health Insurance Applications

Health Web and Mobile Apps

Electronic Health Record (EHR) Solutions
Our

Telemedicine App Development

Solutions Overview
Our telemedicine solutions are equally relevant to the patient's as well as the doctor's. We aim at providing them with a smooth and efficient framework to utilize these solutions.

Time-Effective
By providing quick online consultations, it helps in conserving the time of both patient's and doctor's.

Medical History Records
The medical practitioners can record the medical reports or history in the application as it would be helpful for future reference.

Remote Availability
It helps provide medical consultation to people living in remote regions through easy online booking & appointments.

24/7 Healthcare Facilities
There are multiple doctor's available to patients throughout the day. Patients can get medical help at any time, from any place.

Streamlined Management
Our telemedicine solutions assist the healthcare units in having an effective management system for a convenient work process.

Continuous Monitoring Services
It supports remote patient monitoring and chronic disease monitoring, regular assessments, follow-up consultations & eprescription. etc.
Heighten Your Business Growth With Our
Telemedicine App Development
Leverage your healthcare business performance by getting your hands on dynamic and scalable telemedicine applications. At SISGAIN, we provide the most adept team of telemedicine developers to build the best telemedicine applications.
Technologies Used for

Telemedicine App Development

React Js
The implementation of React JS in our telemedicine app development enhances the user interface. When a React JS application is implemented for health-related services, the developers are able to build the application smoothly and without any complications. It is fast, scalable, & convenient.

Angular
Our Angular developers have added another keyword- healthcare, to their knowledge and skills. It assists in improving the Electronic Health Records (EHR) system. Angular has high HIPAA Compliance and adds the factor of reloading the page & other key elements.

Node JS
By implementing Node JS in the telemedicine application, it allows seamless working. It allows the developers to work on the application without much hassle and with heightened fluency and flexibility. It also offers an event-driven framework that enhances the video conferencing experience.

Cloud Computing
A majority of healthcare organizations implement cloud computing in their frameworks. It is highly HIPAA-compliant. Such a feature assists in maintaining the medical records securely. These records have 24/7 accessibility. Cloud-based telemedicine solutions are superior to healthcare providers.
Framework Of Our

Telemedicine Application

Development
With the help of the latest resources and tools, developers at SISGAIN build a custom-tailored and highly operative structure for telemedicine solutions.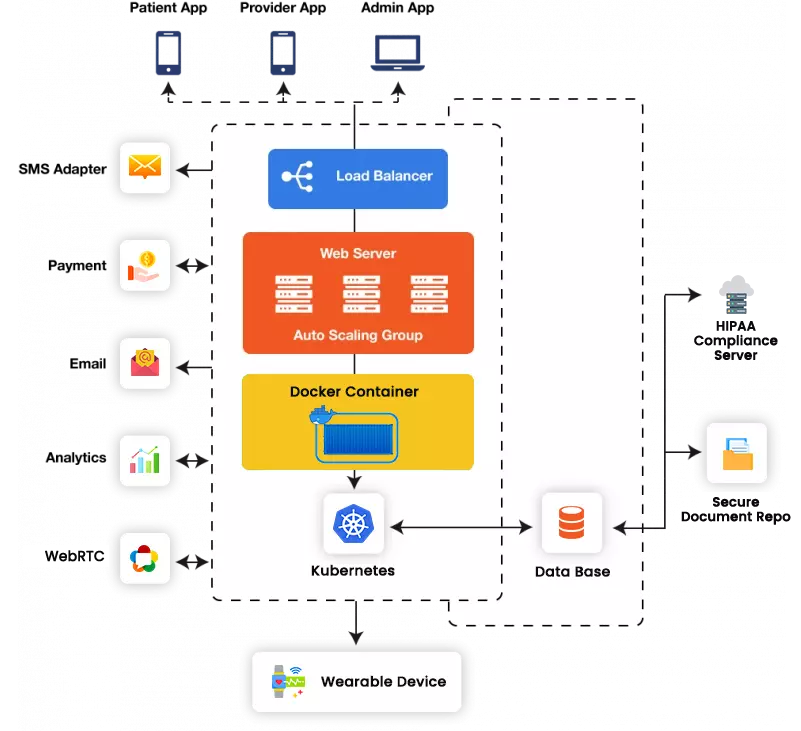 Seamless On-Demand Solutions For Telemedicine App Development
Our skilled telemedicine developers help create customized on demand doctor application solutions as per your business requirements. It is our top priority to offer a reliable telemedicine platform for healthcare facilities and services to help our doctors and patients.
Healthcare Startups
Emerging business or medical organizations that desire to offer healthcare facilities or services to the patients through virtual consultation in a convenient manner.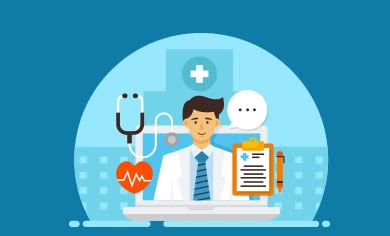 Hospitals and Clinics
We assist the hospitals and clinics in providing an effective platform to carry seamless operations, managing health-related information for patients and billings etc,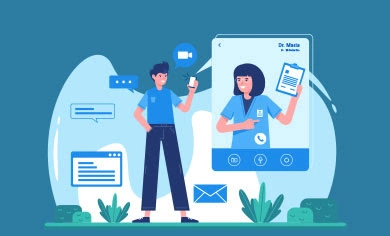 Individual Practitioners
Our telemedicine solutions are best suitable for individual clinic owners or doctors. It allows the virtual consultation to take place between the doctor and a patient, time & money.
Our

Telemedicine App Development

Solutions Overview
The urgency and requirement of telemedicine solutions are ever-increasing. At SISGAIN, you can find the best match of telemedicine development solutions for your business. It provides custom-tailored healthcare services to doctors and patients. Our adept developers have the right skillset to meet ends with the requirements of doctors or medical clinic owners. We assist in boosting the performance of the healthcare industry.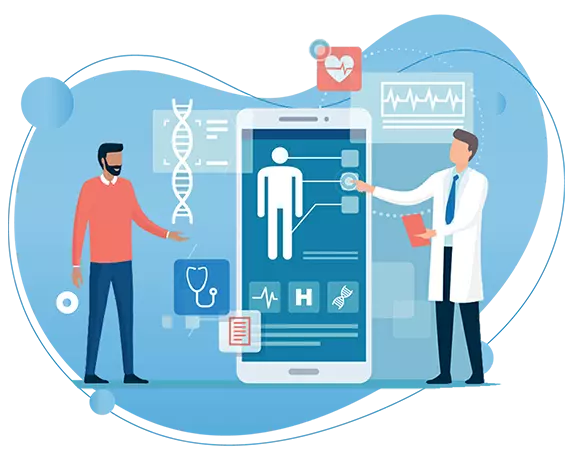 We build dynamic and flexible telemedicine solutions to satisfy the necessary healthcare demands of doctors and hospital owners.
Video Consultations
With the help of a quality video calling feature, physicians can virtually consult their patients.
Store and Forward
Our flexible application framework assists the doctors in uploading, storing, and forwarding EHR to the concerned people.
EMR/EHR Integration
The healthcare centers and doctors have constant access to patient's EMR and EHR for appropriate medical consultation.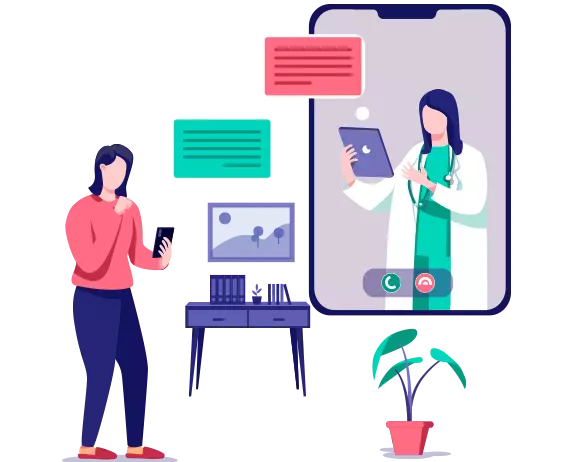 Our application would aid patients in booking and scheduling online appointments with medical practitioners to avail remote healthcare facilities through virtual consultancy.
Online Appointments
By registering on the telemedicine app, a patient can schedule an online applicant with a doctor.
Supports Conference Calls
The application allows the patient and doctor to add more people to the consultancy calls for improved medical assistance.
Rapid Messaging
Our telemedicine app has a chatting feature wherein the doctors and patients can connect with one another through texting.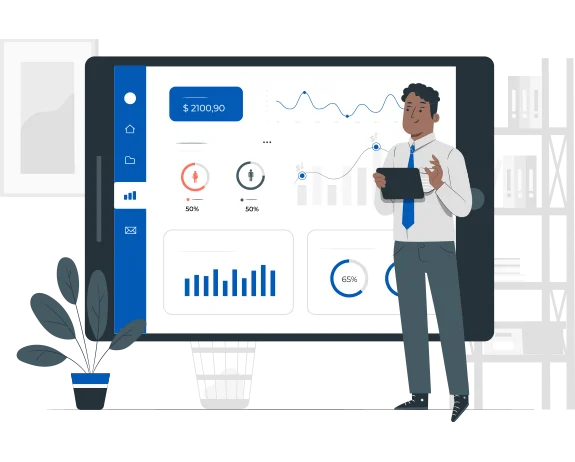 The healthcare centers can look over and handle the engagement or activities of the doctors and patients with our application for effective operations.
Integrated Payment Method
The telemedicine application helps the doctors or medical clinics in receiving online payments from the patients after the virtual consultation ends.
Admin Dashboard
Our telemedicine solutions allow hospitals or doctors to have quick access to their patient's medical history, details, and payment details.
Analytics and Reporting
The medical centers and doctors can review the number of patients registered with them, their medical history or status, payment details, and more.
SISGAIN'S

Telemedicine Application

Workflow Overview

You must be working on how a telemedicine application development solution works? Is that not right? Here, we have provided a step-by-step workflow model to enhance your understanding of our efficient application.
SISGAIN'S Telemedicine App Development Process
Our developers at SISGAIN build custom-tailored telemedicine app development solutions as per the requirements of our clients. We precisely design the framework to allow the best UI/UX model.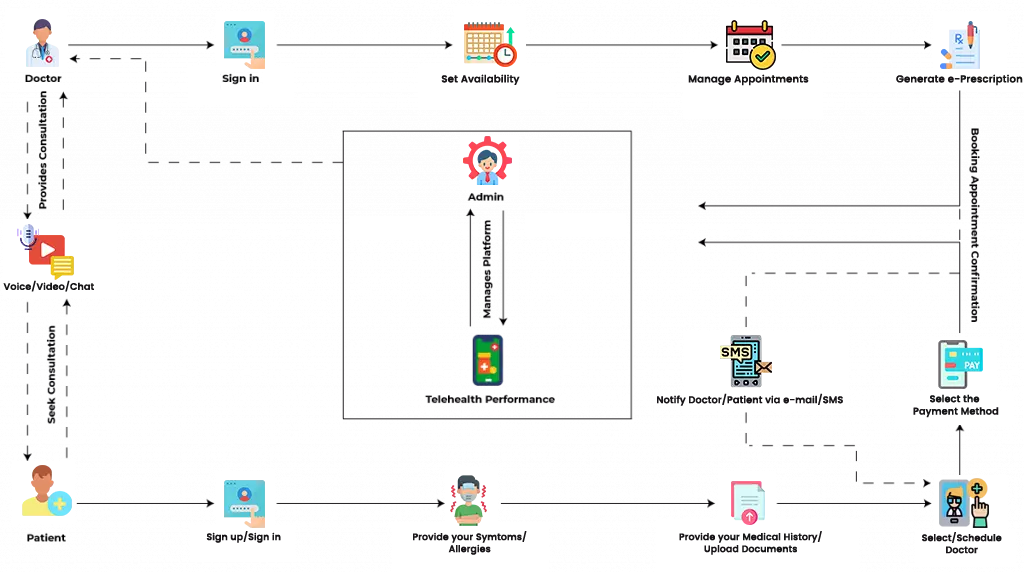 Application Development Process
While developing the best-customized application development for your business, our team of experts follows step-by-step processes for producing quality telemedicine solutions.

Reality Check: Efficient And Cost-Effective Telemedicine App Development Services
The presence of telemedicine applications services has brought a drastic positive change. There is quick and convenient access to healthcare services and facilities at affordable costs.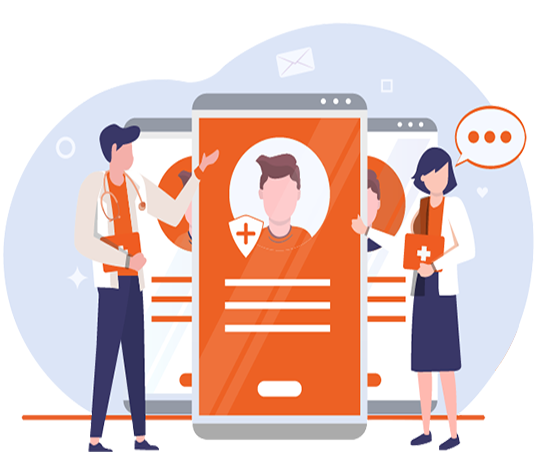 Why Hire

SISGAIN'S

Telemedicine App Development

Solutions ?
SISGAIN is a notable IT solutions & telemedicine app development company that has been in the industry for years. Our developers build empowering cloud based telemedicine app development solutions, catering to the present-day needs and requirements of the healthcare sector.

Custom-tailored Solutions
To render an efficient and uncomplicated doctor-patient virtual experience, we provide customized healthcare solutions.

Multiple Payment Gateway
For easy and quick payment processes, our application supports multiple payment gateways for patients.

Cost-effective Solutions
Our custom-tailored application solutions are available at cost-effective prices with the best quality.

Real-time Notifications
Our telemedicine solution has the feature of sending quick real-time notifications to its users regarding any change in appointment schedules, patient's health, updates, etc.

Third-Party Integration
Our third-party integration facility assists in having an enhanced and fluent flow of operations for a better experience.

Analytics and Reporting
For better management and operations, hospitals or business owners have easy access to business reports and analytics.
Discover New Possibilities With Us
We can assist you in many ways: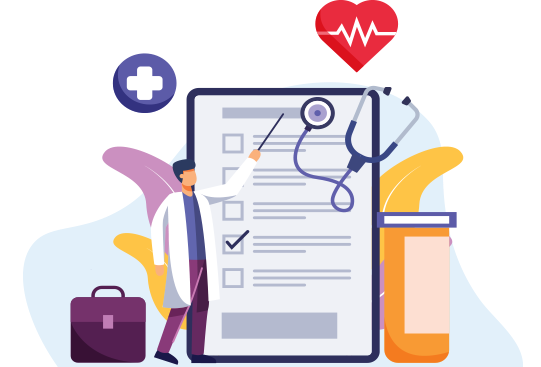 FAQ's
We get a lot of queries concerning our telemedicine services and applications. If you have some queries regarding the solutions offered by SISGAIN, have a look at these few Frequently Asked Questions. For additional queries or doubts, you can reach out to us any time! We'll be more than happy to answer you.
Which platform is best for
telemedicine solutions

?
There are plenty of platforms for telemedicine solutions such as Android, iOS, Web. Each one of them is exceptional in its own way. The best platform for telemedicine development for you will depend on your business type and requirement. We build high-quality and HIPAA-compliant models for all kinds of business requirements. You can contact us regarding your business type and needs, and we'll create the best telemedicine solutions accordingly.
Which one is better- custom-tailored healthcare solutions or ready-made ones?
Both the healthcare development solutions are of high quality. The preference between these two frameworks depends on what kind of application your company requires. If your business or organization seeks the standard functions or features, it would be wise to select ready-made development solutions. However, if your business needs some additional or specific features added to the application, then customized solutions would be suitable.
How can I communicate with the project development team?
Communication is the key to any kind of relationship. Even as clients and service providers, strong and clear communication is a must. When our team would start working on your company's project, our company would provide you with a project manager to stay in touch through the completion of the task. He/She will be in regular touch with the team of your company.
What are the commonly used
technologies for telemedicine solutions

?
The telemedicine app development solutions consist of a variety of functions and features. Implementation of a number of advancing technologies is essential for that purpose. The most commonly used technologies are ReactJS, Angular, Node etc. The solutions are secure and HIPAA-compliant.
Why should I hire
SISGAIN

s for

telemedicine app development solutions

?
At SISGAIN, you will find yourself with a determined team of skilled developers. We are an award winning telemedicine application development company that provides high-quality and exceptional solutions for the telehealth sector. For 8 years, we have been active in this industry. We have accepted and successfully finished many telemedicine development projects. Our developers build the best-customized solutions by meeting ends with your business's requirements. We make quick and timely delivery of our quality telemedicine software services. Client satisfaction is our priority.