Transportation Software Development Company
The logistics industry is vital in supporting trade and commerce in and across countries. Supply chain management enables the manufacturing of products and timely delivery to end users. To cope with the growing population and demand, the logistics and transportation industry has undergone various technological changes in recent years.
Mobile and web applications for logistics operations have streamlined the various activities in supply chain management. Logistics management systems are paving the way for more advanced management of transportation services. We at SISGAIN offer logistics software development services to clients across the globe and help them automate their operations.
Our dedicated developers are experts in logistics software development. We can build intuitive and futuristic software and apps for your logistics business. Having served organizations small and large, we have gathered ample skills and expertise to develop a solution that best suits your business. Connect today and let us build your app.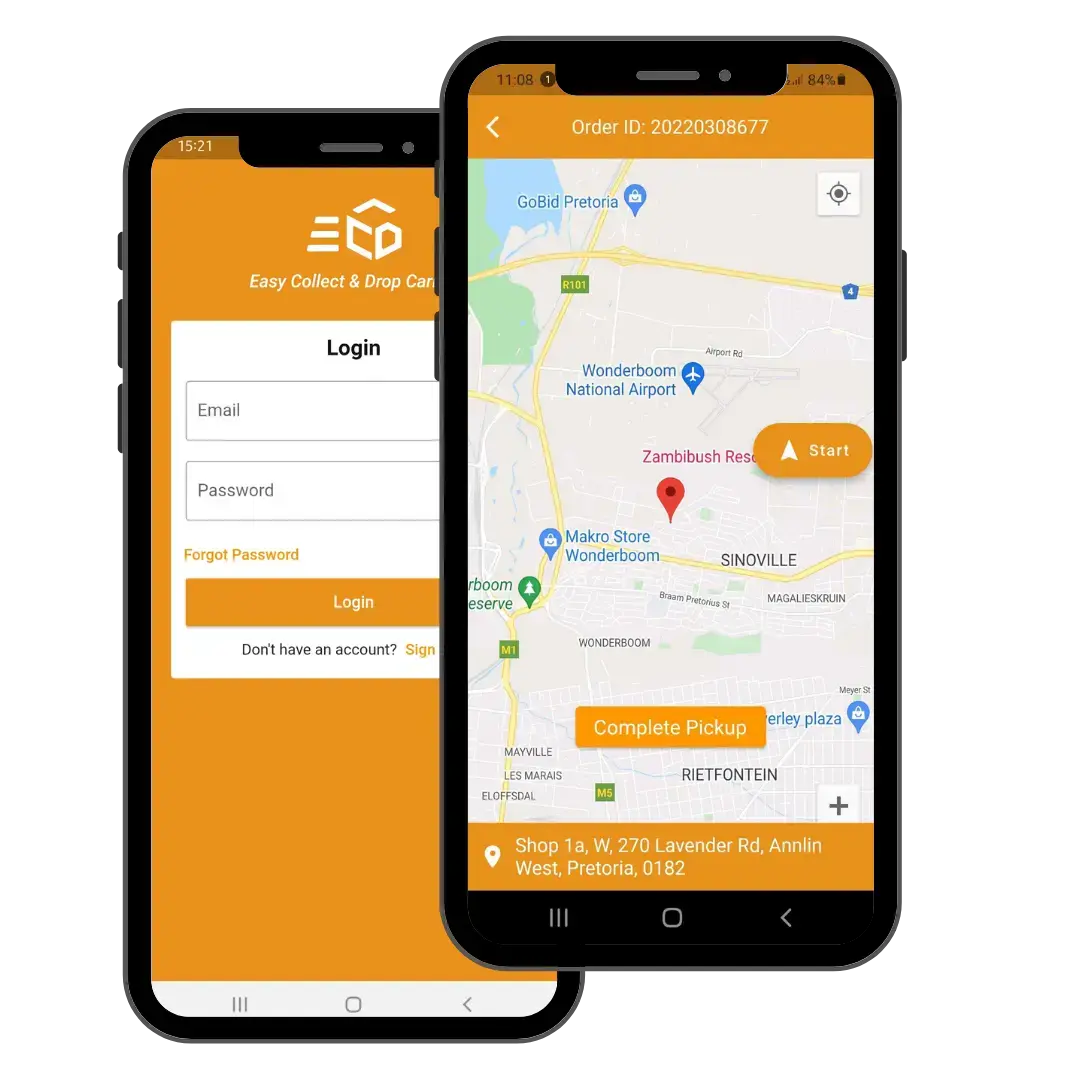 Our Stack of Logistic Management Solutions

Fleet management solution
With a fleet management solution, track your vehicles easily. We build solutions that let you track your fleet's location, route status, possible hurdles and delays, etc. Our logistics app development company understands your requirements thoroughly and builds a custom app or piece of software for you.

Warehouse management solution
Inventory management is necessary to ensure the optimal amount of stock and minimize the risk of overstocking. With modern technology to track raw materials like RFID tags, barcode scanning, etc., warehouse management has become easier than ever. Let us custom-build warehouse management software for you.

Logistics & supply chain management solutions
With logistics and supply chain management solutions, manage the entire supply chain with a mobile or web application. Our logistics app development services can benefit your business by providing a custom-built solution to manage every aspect of the supply chain, from procurement to successful delivery.

Vehicle management solution
Timely servicing of trucks is necessary to ensure they don't break down en route. Delays in transportation can cause huge losses to the logistics industry and disrupt the entire supply chain. With vehicle management solutions, transportation businesses can keep track of their vehicles health.

Driver management solution
A dedicated app that helps organizations manage their drivers can boost business. Tracking drivers can ensure timely deliveries and minimize delays. As a logistics app development company, we can build a mobile app that lets you track drivers with the click of a few fingers.

Asset tracking software
Dedicated asset tracking software can help organizations smartly track their assets, including heavy equipment, vehicles, machines, tools, stock, etc. As a top logistics management software development provider, we commit to developing asset-tracking software that helps save time and tracks all assets.

Custom logistics app development
With our custom logistics mobile app development services, we can build apps that are built based on your unique ideas. Our developers are adept at app development technologies and can build native and hybrid apps. Hire us and let us shape your innovative idea into a fully functional app.

Order management software
Order management software can help organizations handle orders more efficiently. With large orders to pack and ship, chaos and confusion can manifest and lead to delays in dispatch and delivery. We can build a solution that lets you manage large orders and dispatch them in an orderly manner.

Boost Your Performance With Solutions That Drive Results
With immense expertise and skills in websites, web apps, and software development, SISAGIN stands to bring a change to your organization. Check out our services and hire us today to revolutionize your online presence.
Explore All offers

Android App Development
Our Expert Android app development services are tailored to your needs. Transform ideas into powerful, user-centric mobile experiences with our seasoned developers.

Blockchain App Development
We offer Cutting-edge blockchain app development services to harness the potential of decentralized technology with our expert developers. Empower your business for the future.

Wearable App Development
We are leading the way in wearable app development Services. Explore our expertise in crafting innovative, user-centric applications for the latest in wearable technology.

Mobile Game App Development
Unlock the world of gaming with our mobile game app development services. Immerse players in captivating experiences with our expert game developers.
Key Features
Regular updates

Maintenance and support

Agile methodology


Web & mobile solutions

Open communication

Reasonable pricing
Why work with us?

Knowledge and expertise
Our in-house team of developers possesses knowledge and expertise in various technologies and platforms. We can build web and mobile apps for any platform. We also help our clients seamlessly migrate their existing apps to new platforms. With API integration, we make your apps more functional and interact with other software.

Global recognition
Our years of dedication and hard work have given us global recognition. We have served clients across the globe and provided solutions using different technologies. We have built native apps and hybrid apps that are making people's lives easier. Hire our transportation software development services and gain from our expertise.

Scalable and robust solutions
With years of experience and forward-thinking, we have delivered robust solutions in various industries. We have developed web and mobile applications that receive positive feedback from our clients thanks to our innovative and creative thinking. Our logistics management systems are unique and offer ease of operation.

Dedicated project managers
Our project managers oversee the completion of your projects. They maintain continuous communication with the clients and collect constant feedback. From ideation to delivery, our project managers stand at the forefront to facilitate the timely completion of your transportation and logistic software.

On-time delivery
With dedication and continuous development, we deliver your solutions on time. By following an agile methodology, we divide the tasks among various teams and collect constant updates from them. With quality assurance and testing at each stage, on-time delivery of your app is doable.

Futuristic technology
We integrate emerging technologies like artificial intelligence, machine learning, AR and VR, IoT, etc. to automate logistics operations and offer instant solutions. Our solutions are futuristic and are changing the logistics industry. Connect with us today for logistics app development services and let your dream idea become a reality.
Fully Customized Digital Solutions For Your Business
On-Demand App Solution

Elevate your business with our custom app development solutions in USA, delivering on-demand app development solutions tailored to your unique needs.

E-commerce

Empower your online store with our custom app development services, creating seamless and user-friendly e-commerce app development solutions for your brand.

Food & Beverage Solution

Enhance the dining experience with our custom app development services in USA, offering innovative food and beverage app development solutions for your business.

Pickup & Delivery Solution

Streamline your operations with us we're providing efficient pickup and delivery app development solutions tailored to your business needs.

Blockchain Development

Explore the future of secure, decentralized technology with our app development, delivering innovative blockchain app development solutions for your business.

Internet of Things (IOT)

Connect and control IoT devices seamlessly with us, we can create intelligent app development solutions for your connected world.

Social Networking Solution

Build engaging and interactive social networks with our Best app development solutions, connecting users and fostering community engagement.

Healthcare & Medical Solution

Transform healthcare and medical services with our healthcare app development services, providing innovative app development solutions for better patient care and management.

Laundry & Home Services

Effortlessly manage laundry and home services with our custom app development, simplifying tasks and enhancing convenience for users.

Transportation Solution

Revolutionize transportation with our custom app development, delivering efficient and user-friendly solutions for seamless mobility experiences.

Real Estate Solution

Elevate your real estate ventures with us, delivering innovative app development solutions for property management and transactions in USA.

Banking & Finance

Empower financial institutions with our custom app development, delivering secure, user-friendly solutions for seamless banking and finance services.

Education & Learning

Transform education and learning experiences with our Educational app development, delivering innovative solutions for effective teaching and knowledge sharing.

Manufacturing Business Solution

Optimize manufacturing processes with our app development solutions, providing innovative solutions for improved efficiency and productivity in your business.

Enterprise Mobility Solution

Empower your enterprise with our Mobility App Development, delivering mobility solutions that enhance productivity and streamline operations.
Feel free to reach out to us with any additional questions or to learn more about our Logistic App Development Services!
We partnered with SISGAIN to develop our logistics app, TransitTrack, and the results were outstanding! Their team's expertise and dedication ensured a seamless user experience. Thank you, SISGAIN, for helping us revolutionize our logistics operations.
Michael Roberts
SISGAIN delivered beyond our expectations with a logistics app that streamlined our supply chain. The app's functionality and design are top-notch. Initially, we were skeptical of their services, but the results have changed our minds. We highly recommend their services!
Jennifer Thompson
SISGAIN is a game-changer in logistics app development. They created a fantastic app that improved our fleet management. Their attention to detail and commitment to quality make them our go-to choice!
David Mitchell
Testimonials
Check what our satisfied clients said
Discover the voices of our delighted clients from USA. See what they have to say about their experiences with us.