Healthcare Software Development Services in Saudi Arabia
The 21st century is the era of technological advancements and innovations. From smartphones to driverless cars to artificial intelligence, innovation is all around us. With a smartphone in hand, we have access to a world of services. Virtual health is gaining popularity very quickly. Healthcare app development has enabled doctors, patients, nurses, and medical institutions to have easy access to medical facilities.
Virtual healthcare apps have made it possible for patients to receive care remotely without bothering to visit clinics and hospitals. The healthcare industry has seen tremendous growth ever since healthcare apps were introduced. Saudi Arabia, with its robust healthcare system, is shifting its focus to virtual medical care. Telemedicine app development in Saudi Arabia is growing in demand.
SISGAIN is the name to recall if you want to hire healthcare mobile app developers. We have helped many hospitals and clinics optimize their daily operations with our innovative and creative healthcare app development services. The general user base has become more aware of their medical conditions and connects easily with their healthcare provider. Let us build your healthcare app today and help you simplify your operations.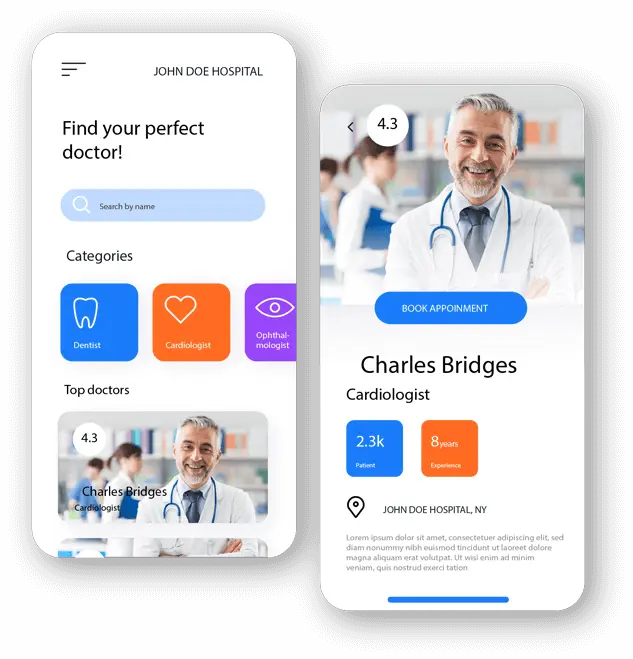 Why app development for healthcare?

Better patient care
Our custom software development for healthcare will help you treat your patients better. whether you are an individual, own a clinic, or run a hospital, healthcare apps for patients can help you provide better medical services. Medical apps are changing the way doctors and patients interact with each other.

Optimize costs
If you run a hospital or a clinic, you know the costs that you have to bear. A hospital needs beds, medical devices and tools, nurses, electricity, and much more. With our healthcare software development, you can get software that helps reduce waste, track inventory, and allocate resources mindfully.

Automate operations
With healthcare mobile app development, you can get software that helps you process clinical data and test results. You no longer need to spend hours analyzing the test results. Healthcare software helps reduce errors and saves you time. You can spend that time providing better care to your patients.

Remote services
Our RPM software development services in Saudi Arabia help you provide remote care to your patients. Patients with chronic illnesses do not need to be admitted to hospitals for prolonged periods. RPM software helps doctors monitor patients' vitals and track their progress. These RPM programs also have alerts that inform doctors if the patient's condition worsens.

Manage patient data
Medical data can be overwhelming. There are a ton of documents that need to be maintained when a patient gets admitted or receives treatment. Our healthcare app development company in Saudi Arabia can help you maintain this data by developing solutions that are robust and scalable.

Get insights from data
Valuable insights can help healthcare providers make precise decisions. Data-driven decisions are more accurate and offer accurate results. Our healthcare apps have an analytics dashboard that analyzes a large amount of clinical data and helps doctors make informed decisions.

Boost Your Performance With Solutions That Drive Results
With immense expertise and skills in websites, web apps, and software development, SISAGIN stands to bring a change to your organization. Check out our services and hire us today to revolutionize your online presence.
Explore All offers

Android App Development
Our Expert Android app development services are tailored to your needs. Transform ideas into powerful, user-centric mobile experiences with our seasoned developers.

Blockchain App Development
We offer Cutting-edge blockchain app development services to harness the potential of decentralized technology with our expert developers. Empower your business for the future.

Wearable App Development
We are leading the way in wearable app development Services. Explore our expertise in crafting innovative, user-centric applications for the latest in wearable technology.

Mobile Game App Development
Unlock the world of gaming with our mobile game app development services. Immerse players in captivating experiences with our expert game developers.
Key Features
Virtual consultations

Data analytics

IoT device integration

Continuous monitoring

EMR/EHR integration


Telemedicine

E-pharmacy

Appointment scheduling

AI alerts

AI chatbots
Our Custom Healthcare Software Development Solutions

EMR/EHR software
Our healthcare app development company can develop EMR and EHR software. Electronic medical records help doctors and patients access their medical bills from anywhere. Electronic health records help doctors manage a vast amount of information about a patient from different hospitals and clinics. EMR and EHR software development helps doctors provide better care to patients.

Web and mobile healthcare apps
Serve your patients to the fullest with mobile health apps. These apps can be accessed from anywhere, anytime. Patients can download these apps and track their vitals and physical activity. Our health care software developers use various technologies to make your healthcare apps user-centric and user-friendly. Our healthcare mobile application development will enhance the patient experience.

Hospital management solutions
You might use software to manage the day-to-day operations of your hospital. A hospital management solution is exactly what you need. With this, you can manage your staff, inventory, finances, etc. with different modules and features, you can automate redundant tasks, and allocate your resources for important activities.
Telehealth/telemedicine apps
With our telehealth and telemedicine apps, you can provide quick medical assistance to your patients, have virtual consultations, and easily book appointments. Our custom healthcare software development company can develop a telemedicine app for you to easily connect with your patients. Contact us today to receive our healthcare app development services.

mHealth apps
mHealth, or mobile health apps, provide health services on the go. We build next-gen mHealth apps that can offer quick medical services and resources, automate tasks, and streamline workflows. Our medical software development company is proficient at developing mHealth apps.

IoT healthcare software
Our software development for medical devices can help doctors store and monitor data. Integration with medical devices can help nurses and physicians gain valuable insights from the data and take timely action. Hire our medical device software development services today and get IoT solutions for your medical practice.
Why Choose Us As Your Healthcare Mobile App Development Company In Saudi Arabia?

Custom software development
We at SISGAIN build custom software for healthcare. After a detailed and thorough discussion, we create the roadmap to create your healthcare apps and software. We have a keen eye for the details and develop solutions that will differentiate you from your competitors.

Compliance with industry standards
Our healthcare software developers are knowledgeable about healthcare standards. We build healthcare apps that comply with industry standards. We make sure that our apps and software keep user information private and prevent unauthorized access. Our apps and software are HIPAA, GDPR, and ISO compliant.

Healthcare app development expertise
Our healthcare mobile application development company in Saudi Arabia boasts unparalleled expertise in developing apps for healthcare. We have created multi-function apps for various clinics and hospitals. Our healthcare software is rich with the latest technologies.

The best value for money
Getting a healthcare app from us will give you the most returns on your investment. Our healthcare app development is not just innovative but cost-effective too. Maximize your revenue and use your resources optimally with our healthcare apps.
Fully Customized Digital Solutions For Your Business
On-Demand App Solution

Elevate your business with our custom app development solutions in USA, delivering on-demand app development solutions tailored to your unique needs.

E-commerce

Empower your online store with our custom app development services, creating seamless and user-friendly e-commerce app development solutions for your brand.

Food & Beverage Solution

Enhance the dining experience with our custom app development services in USA, offering innovative food and beverage app development solutions for your business.

Pickup & Delivery Solution

Streamline your operations with us we're providing efficient pickup and delivery app development solutions tailored to your business needs.

Blockchain Development

Explore the future of secure, decentralized technology with our app development, delivering innovative blockchain app development solutions for your business.

Internet of Things (IOT)

Connect and control IoT devices seamlessly with us, we can create intelligent app development solutions for your connected world.

Social Networking Solution

Build engaging and interactive social networks with our Best app development solutions, connecting users and fostering community engagement.

Healthcare & Medical Solution

Transform healthcare and medical services with our healthcare app development services, providing innovative app development solutions for better patient care and management.

Laundry & Home Services

Effortlessly manage laundry and home services with our custom app development, simplifying tasks and enhancing convenience for users.

Transportation Solution

Revolutionize transportation with our custom app development, delivering efficient and user-friendly solutions for seamless mobility experiences.

Real Estate Solution

Elevate your real estate ventures with us, delivering innovative app development solutions for property management and transactions in USA.

Banking & Finance

Empower financial institutions with our custom app development, delivering secure, user-friendly solutions for seamless banking and finance services.

Education & Learning

Transform education and learning experiences with our Educational app development, delivering innovative solutions for effective teaching and knowledge sharing.

Manufacturing Business Solution

Optimize manufacturing processes with our app development solutions, providing innovative solutions for improved efficiency and productivity in your business.

Enterprise Mobility Solution

Empower your enterprise with our Mobility App Development, delivering mobility solutions that enhance productivity and streamline operations.
Feel free to reach out to us with any additional questions or to learn more about our HealthCare App Development Services!
We partnered with SISGAIN to create a pharmaceutical management app. They perfectly understood our requirements and built an app that was perfect. Their app development skills are impressive, and the results are outstanding. Thank you!
Dr. Emily Adams
SISGAIN crafted an app for our dental practice, and it's been a game-changer. We are very happy with the end result. The app is user-friendly and has improved patient engagement. SISGAIN, you're the best!
Mark Rodriguez
Kudos to SISGAIN for building our nutrition tracking app. We are able to provide our patients with customized nutrition care. I must say that the quality of their healthcare app development is impeccable. We're extremely satisfied with the results!
Dr. Sarah Turner
Testimonials
Check what our satisfied clients said
Discover the voices of our delighted clients from USA. See what they have to say about their experiences with us.