Game App Development Company
The gaming industry is a thriving one. The global gaming market is expected to generate $188 billion in 2023. The United States is the biggest gaming market in the world. China and Japan are next in line. Mobile games generate more revenue than console and PC gaming. Still not sure about getting a mobile game? Hire our mobile game development services and let the revenue roll in for you.
SISGAIN is a renowned name for game development. Our mobile game app developers are proficient at creating games for both Android and iOS devices. We have developed a number of next-gen games that are popular with the younger generation. We integrate technologies like AR, VR, artificial intelligence, blockchain, 3D reconstruction, etc. to develop games that offer the most exhilarating experience to gamers.
Hire our game development services today and let us create the most innovative and advanced game for you. Launch your game with us and use the large base of gamers in the US to generate revenue.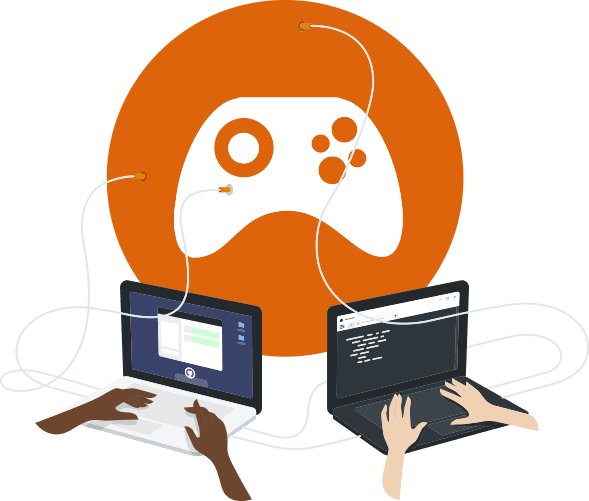 Our Game Development Services

Full-cycle mobile game development
Our mobile game app development company comprises a dedicated team of mobile game developers and project managers who work in harmony with the client to build the game that they desire. From idea development to successful testing and deployment, we undertake the full development of your gaming app.

Art, design, and animation
Our mobile game developers build attractive, immersive, and visually appealing characters, worlds, villains, heroes, icons, weapons, etc. With technologies like augmented reality and virtual reality, we try to give gamers a deep experience of the game. Our game designers are highly creative and create characters and worlds not heard about.

iOS game development
Our iOS game developers are experts in technologies like Xcode, Swift, and the Metal Graphics Framework that are used to develop iOS games. The US has a huge iOS user base. Let us build an immersive iOS game app and help you generate a huge amount of revenue from it.

Android game development
With most gamers being Android users, you cannot overlook the potential of an Android game app. We leverage various Android game development tools, including Unity, Unreal Engine, Marmalade SDK, Construct 2, etc., to develop attractive games. Our Android game developers are renowned for their game development skills.

Cross-platform game development
Developing two versions of the same game for different platforms is time-consuming and costs more. The solution? Cross-platform games. A cross-platform game is built using a single codebase and runs on multiple platforms. With a cross-platform mobile game, you can get exposure to a large audience.

2D and 3D game development
2D and 3D games are all the rage now. With real-life experience, these games are more thrilling and exciting to play. Our game developers are proficient at developing 2D and 3D games. We build native games for Android and iOS as well as cross-platform games.

Mobile game testing
Our quality assurance and testing team performs extensive testing of mobile games before finally launching them. We perform a number of tests to check a game's reliability, performance, speed, user interface, and other aspects. We conduct both manual and automatic tests to get the most accurate results.

Support and maintenance
We provide regular support and maintenance for all the games we develop. We prioritize client satisfaction and go beyond our limits to ensure it. We offer regular maintenance and support even after the completion of the project. Our support and maintenance team stays regularly in touch with our clients.
Platforms We Develop Games For

Android
Around 78% of gamers are Android users. We develop the most adventurous and edgy Android games. As a top Android game development company, we have a dedicated team of developers that undertakes the responsibility of the complete completion of your game, from idea development to deployment.

iOS
Around 25% of apps downloaded on iOS are games. The huge base of iOS users in the US makes it a lucrative market for iOS game development. Our iPhone game development company can build futuristic iOS games that attract gamers of every age group.

Cross-platform
Why limit yourself to only one type of audience when you can have a cross-platform game and get more exposure? Hire our cross-platform game developers and get a game that is built for both Android and iOS users.

Boost Your Performance With Solutions That Drive Results
With immense expertise and skills in websites, web apps, and software development, SISAGIN stands to bring a change to your organization. Check out our services and hire us today to revolutionize your online presence.
Explore All offers

Android App Development
Our Expert Android app development services are tailored to your needs. Transform ideas into powerful, user-centric mobile experiences with our seasoned developers.

Blockchain App Development
We offer Cutting-edge blockchain app development services to harness the potential of decentralized technology with our expert developers. Empower your business for the future.

Wearable App Development
We are leading the way in wearable app development Services. Explore our expertise in crafting innovative, user-centric applications for the latest in wearable technology.

Mobile Game App Development
Unlock the world of gaming with our mobile game app development services. Immerse players in captivating experiences with our expert game developers.
Key Features
Immersive features

Full cycle development

Agile frameworks

Affordable solutions


Support and maintenance

Native mobile games

Cross-platform mobile games

Quality assurance & testing
Why SISGAIN as a Mobile Game Development Company?

Customized solutions
Our game development services are customized as per your requirements and budget. Our mobile game app developers are proficient at thoroughly understanding your ideas and turning them into reality. We develop games that surpass your expectations.

Transparency and reliability
As a top gaming app development company in the US, we ensure transparency in communication and all operations. We are regularly in touch with our clients and use their critical feedback to improve our solutions.

Tech-savvy solutions
We are well-versed in gaming technologies. As a sports app development company, we follow the latest trends in the gaming market and deliver solutions that are sure to go viral. We pool our creativity to build tech-savvy solutions.

Agile and scrum process
We deliver solutions quickly by following an agile methodology. By breaking the project into phases and fostering continuous collaboration among the different teams, we deliver the finest results. With the scrum project management framework, we manage our work through a set of values and principles.
Fully Customized Digital Solutions For Your Business
On-Demand App Solution

Elevate your business with our custom app development solutions in USA, delivering on-demand app development solutions tailored to your unique needs.

E-commerce

Empower your online store with our custom app development services, creating seamless and user-friendly e-commerce app development solutions for your brand.

Food & Beverage Solution

Enhance the dining experience with our custom app development services in USA, offering innovative food and beverage app development solutions for your business.

Pickup & Delivery Solution

Streamline your operations with us we're providing efficient pickup and delivery app development solutions tailored to your business needs.

Blockchain Development

Explore the future of secure, decentralized technology with our app development, delivering innovative blockchain app development solutions for your business.

Internet of Things (IOT)

Connect and control IoT devices seamlessly with us, we can create intelligent app development solutions for your connected world.

Social Networking Solution

Build engaging and interactive social networks with our Best app development solutions, connecting users and fostering community engagement.

Healthcare & Medical Solution

Transform healthcare and medical services with our healthcare app development services, providing innovative app development solutions for better patient care and management.

Laundry & Home Services

Effortlessly manage laundry and home services with our custom app development, simplifying tasks and enhancing convenience for users.

Transportation Solution

Revolutionize transportation with our custom app development, delivering efficient and user-friendly solutions for seamless mobility experiences.

Real Estate Solution

Elevate your real estate ventures with us, delivering innovative app development solutions for property management and transactions in USA.

Banking & Finance

Empower financial institutions with our custom app development, delivering secure, user-friendly solutions for seamless banking and finance services.

Education & Learning

Transform education and learning experiences with our Educational app development, delivering innovative solutions for effective teaching and knowledge sharing.

Manufacturing Business Solution

Optimize manufacturing processes with our app development solutions, providing innovative solutions for improved efficiency and productivity in your business.

Enterprise Mobility Solution

Empower your enterprise with our Mobility App Development, delivering mobility solutions that enhance productivity and streamline operations.
Feel free to reach out to us with any additional questions or to learn more about our Mobile Game Development Services!
SISGAIN delivered a gaming experience beyond our expectations. Their expertise in app development brought our imaginary world to life. The Galactic Warriors app is a hit, thanks to their team!
Michael Roberts
SISGAIN transformed our vision into reality with their mobile game app development. Race Mania is now a favorite among gamers, and it's all thanks to their top-notch skills and commitment to excellence.
Jennifer Thompson
Working with SISGAIN on our game app was a dream come true. City Builder Tycoon is now a household name, thanks to their exceptional mobile app development services. They turned our vision into a gaming masterpiece!
David Mitchell
Testimonials
Check what our satisfied clients said
Discover the voices of our delighted clients from USA. See what they have to say about their experiences with us.