Top Telemedicine App Development Company in Saudi Arabia
Telemedicine apps are getting more popular day by day. But what exactly are these apps? Are you wondering what exactly telemedicine is? Telemedicine, also referred to as telehealth, is the process of evaluating, diagnosing, and treating a patient using digital devices. A patient can consult a doctor virtually. Telemedicine apps have seen rapid growth over the past few years.
The Kingdom of Saudi Arabia boasts a robust healthcare system. Under Vision 2030, the Saudi government is going to invest heavily in healthcare infrastructure and systems. The increasing blend of information technology in health and wellness services is improving the efficiency of operations. Telemedicine is getting more popular with advancements in related technologies. The use of telemedicine software apps is rapidly increasing to access healthcare services.
SISGAIN is a top telemedicine software development company in Saudi Arabia. With a dedicated team and immense expertise, we have delivered countless telemedicine apps to healthcare providers in Saudi Arabia. If you are looking for affordable telemedicine app development services in Saudi Arabia, SISGAIN is a name to remember. Hire our telemedicine app developers today and get a robust app for your medical operations.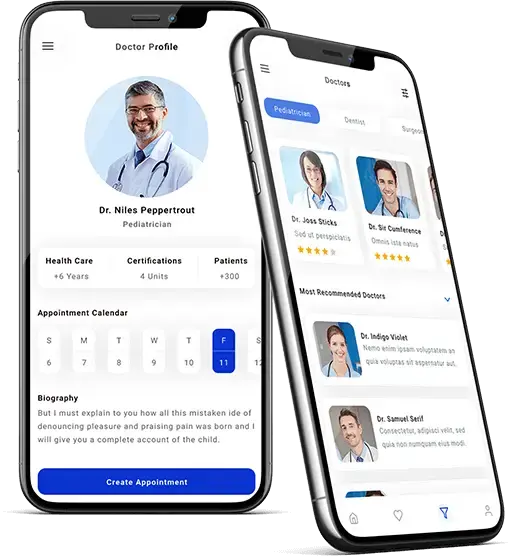 Custom Telemedicine App Development Solutions Are For
Doctors and healthcare providers
Telemedicine apps are increasing efficiency and improving the performance of doctors and healthcare providers. Doctors can schedule virtual visits, offer instant consultations, and increase the efficiency of their operations.

Telehealth service providers
Telehealth providers also need robust and scalable telemedicine apps and software. Telehealth is the new revolution in the wellness sector and a relief to healthcare providers. Telemedicine software development services can provide telehealth providers with innovative health apps.

Hospitals, clinics, and laboratories
Hospitals, clinics, and laboratories can function better with telemedicine apps. Telemedicine apps can help hospitals improve their workflow and better manage their day-to-day operations.
Why Go For Telemedicine Application Development?

Enhanced patient engagement
Patients can have quick access to their medical history and records on a telemedicine app. Telemedicine apps have enhanced the way patients engage with their healthcare providers. A patient can easily make appointments and get critical updates from their doctor or physician.

Appointment management
Manual appointment management is chaotic and cumbersome. A telemedicine mobile app can simplify this process. Patients can easily book slots at their preferred time, and a doctor can get follow-ups. Appointment management has become easier with healthcare app development Saudi Arabia.

Secure data management
Data security is crucial for everyone. To keep a patient's data safe and free from any intrusion, strong safety measures are included in the healthcare app. Various security and encryption layers ensure that the patient's data is safe and cannot be accessed by anyone.

Streamlined administration
Healthcare and telemedicine apps are not just beneficial for patients but also for healthcare providers. A telemedicine app allows for better administration, inventory management, billing, and invoicing, and operational costs are minimized with telemedicine apps.

Access to quick services
A telemedicine app helps patients access quick services without the need for a face-to-face consultation with a doctor. A patient can consult his doctor virtually or over the phone. This helps patients save a significant amount of time traveling to the hospital or clinic.

Boost Your Performance With Solutions That Drive Results
With immense expertise and skills in websites, web apps, and software development, SISAGIN stands to bring a change to your organization. Check out our services and hire us today to revolutionize your online presence.
Explore All offers

Android App Development
Our Expert Android app development services are tailored to your needs. Transform ideas into powerful, user-centric mobile experiences with our seasoned developers.

Blockchain App Development
We offer Cutting-edge blockchain app development services to harness the potential of decentralized technology with our expert developers. Empower your business for the future.

Wearable App Development
We are leading the way in wearable app development Services. Explore our expertise in crafting innovative, user-centric applications for the latest in wearable technology.

Mobile Game App Development
Unlock the world of gaming with our mobile game app development services. Immerse players in captivating experiences with our expert game developers.
Key Features
Amazing UI/UX

Notifications

Review and rating

Filters


Payment options

Online scheduling

Medicine order

Home consultation
Why Choose SISGAIN For Telemedicine Software Development Services in Saudi Arabia?

Global presence
SISGAIN is a renowned name as a telemedicine app development company in various countries around the world. Not just in Saudi Arabia, we have developed eHealth solutions for clients in many countries. Our affordable and on-time telemedicine app development services are the reason for our worldwide presence.

Experienced and highly qualified team
Our telemedicine app developers in Saudi Arabia are highly qualified and experienced. With the knowledge of the latest technologies and tools, we create apps that are sure to stand out and beat our competitors. Hire us today and take advantage of this expertise for your medical operations.

10+ years of experience
SISGAIN has been providing IT and telemedicine mobile app development solutions to clients in multiple industries for the past ten years. With our out-of-the-box and creative solutions, we have established an unparalleled reputation in the market. We are the go-to name for clients who want lucrative IT solutions.
Continuous maintenance and support
Our telemedicine app development solutions Saudi Arabia do not merely end with development. We go a step further and ensure that your app gets regular updates. We maintain your app to ensure that it does not get infected with bugs or threaten the security of users.

HIPAA compliant apps
Our telemedicine apps are HIPAA (Health Insurance Portability and Accountability Act) compliant. This act ensures that the sensitive information of a patient is not disclosed without the patient's knowledge or consent. Our telemedicine software development company strictly adheres to all industry standards and ensures the utmost safety of a patient's health.

Quality assurance
Our telemedicine application software development Saudi Arabia is incomplete without undergoing various quality assurances and rigorous testing. Our quality assurance team and testers perform multiple tests manually to test your app against established parameters. We also deploy automation testing to expedite the process.
Fully Customized Digital Solutions For Your Business
On-Demand App Solution

Elevate your business with our custom app development solutions in USA, delivering on-demand app development solutions tailored to your unique needs.

E-commerce

Empower your online store with our custom app development services, creating seamless and user-friendly e-commerce app development solutions for your brand.

Food & Beverage Solution

Enhance the dining experience with our custom app development services in USA, offering innovative food and beverage app development solutions for your business.

Pickup & Delivery Solution

Streamline your operations with us we're providing efficient pickup and delivery app development solutions tailored to your business needs.

Blockchain Development

Explore the future of secure, decentralized technology with our app development, delivering innovative blockchain app development solutions for your business.

Internet of Things (IOT)

Connect and control IoT devices seamlessly with us, we can create intelligent app development solutions for your connected world.

Social Networking Solution

Build engaging and interactive social networks with our Best app development solutions, connecting users and fostering community engagement.

Healthcare & Medical Solution

Transform healthcare and medical services with our healthcare app development services, providing innovative app development solutions for better patient care and management.

Laundry & Home Services

Effortlessly manage laundry and home services with our custom app development, simplifying tasks and enhancing convenience for users.

Transportation Solution

Revolutionize transportation with our custom app development, delivering efficient and user-friendly solutions for seamless mobility experiences.

Real Estate Solution

Elevate your real estate ventures with us, delivering innovative app development solutions for property management and transactions in USA.

Banking & Finance

Empower financial institutions with our custom app development, delivering secure, user-friendly solutions for seamless banking and finance services.

Education & Learning

Transform education and learning experiences with our Educational app development, delivering innovative solutions for effective teaching and knowledge sharing.

Manufacturing Business Solution

Optimize manufacturing processes with our app development solutions, providing innovative solutions for improved efficiency and productivity in your business.

Enterprise Mobility Solution

Empower your enterprise with our Mobility App Development, delivering mobility solutions that enhance productivity and streamline operations.
Feel free to reach out to us with any additional questions or to learn more about our Telemedicine App Development Services!
SISGAIN transformed our healthcare practice with their telemedicine app development. The 'MediConnect' app they created for us is user-friendly and secure. It is helping us provide quality care remotely. Thank you, SISGAIN!
Dr. Emily Adams
We partnered with SISGAIN for our E-health app, and it's been a game-changer. Their expertise in telemedicine app development is evident, and our patients love the convenience it offers.
Mark Rodriguez
SISGAIN's 'VirtuHealth' app exceeded our expectations. The team's commitment to delivering a robust telemedicine solution was outstanding. We highly recommend their services!
Dr. Sarah Turner
Testimonials
Check what our satisfied clients said
Discover the voices of our delighted clients from USA. See what they have to say about their experiences with us.