Telemedicine Software Development Company in India
Apps are everywhere. We use multiple apps in a day. We have different apps for different things. Be it ordering food, booking a ride, buying shoes, booking flights, or watching a movie, we have an app for each. But have you ever thought that you could access medical services virtually? Yes, it is possible. Now you can connect easily with a doctor with our custom telemedicine apps.
Telemedicine apps are growing in popularity. A telemedicine app or software makes it easy to consult a doctor without the need to visit the clinic or hospital. Telemedicine apps are available for both doctors and patients. There are multiple telemedicine apps already on the market. These apps are helping patients and doctors communicate with each other easily and avail themselves of important services.
Do you want to launch your telemedicine app? Are you looking for a reliable partner? Then you have landed in the right spot. SISGAIN has immense experience in creating telemedicine apps for doctors, clinicians, and hospitals. Our telemedicine app development solutions will surely ease your healthcare needs. Contact us today for telemedicine application development.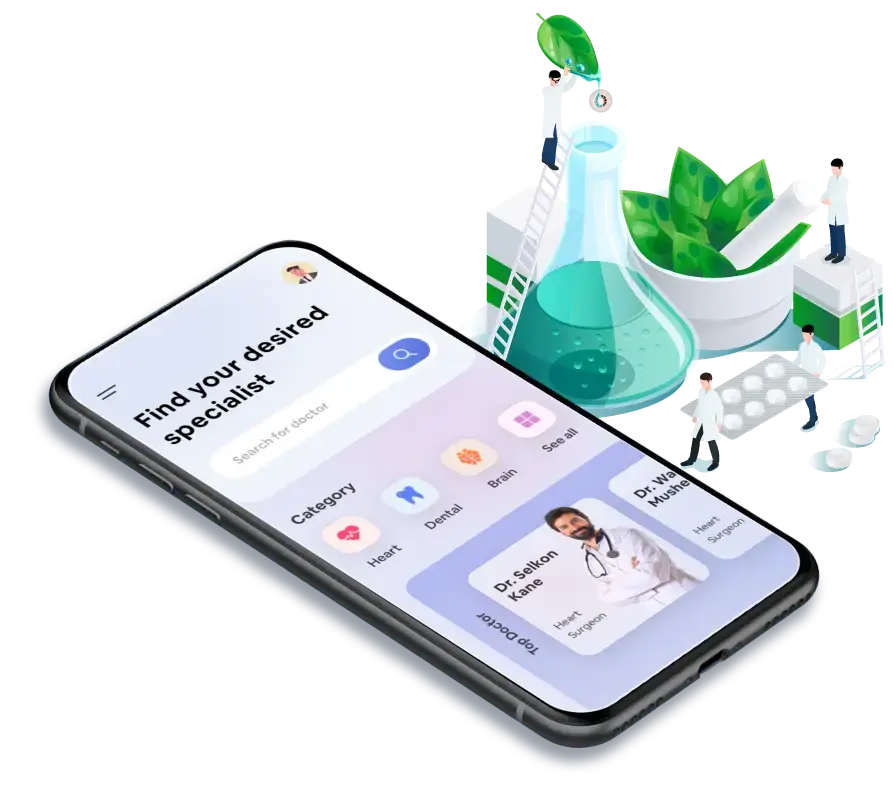 Our Telemedicine Software Development Services India

Custom telemedicine software development
Our telemedicine software development company excels at developing custom telemedicine software based on your unique requirements and needs. We deploy the latest technology and tools to create healthcare solutions that help you provide precise wellness services to your patients. Hire our telemedicine app development services and let us create a custom solution for you.

Telemedicine UI development
A simple and easy-to-use user interface is necessary for the success of a telemedicine app. We have expert UI/UX designers who create attractive and easy-to-navigate app interfaces. We make sure to create telemedicine apps that stand out from the crowd.

Telemedicine app testing
Our telemedicine application development services also include thorough and rigorous testing. Testing and quality assurance are two important steps in application development. Testing ensures that the application or software is free of any defects or bugs. A poorly tested telemedicine app can harm the user's data.

App maintenance and support
Our telemedicine app development services in India also include app maintenance and support. Regular app maintenance and support will ensure that your app works smoothly and does not get slow or glitchy. Our custom telemedicine software is maintained regularly by us to provide your customers with the best experience.

Telemedicine web and mobile apps
We develop telemedicine apps for both web and mobile platforms. Our telemedicine app developers are proficient in various technologies that are needed to develop apps for the web and mobile. We also build native and cross-platform apps. Our telemedicine mobile app development in India can give you your dream mobile app.

Telemedicine app for patients
Telemedicine apps for patients help patients easily access healthcare and wellness services. These apps help patients receive health services on the go. Our telemedicine app development for patients has multiple features like video consultation, locating nearby doctors and clinics, chat options with doctors, medicine reminders, nutrition checkers, etc.

Telemedicine apps for doctors
We also create telemedicine apps for doctors as well. Doctors can use telemedicine apps to streamline their daily operations and provide better healthcare services to their patients. Our telemedicine mobile app development for doctors has transformed the way doctors connect with their patients. With telemedicine application development, healthcare professionals have connected better with their patients.

Telemedicine app integration
We also integrate telemedicine apps with your already existing software and applications. Our telemedicine app developers can carry out this integration seamlessly without disrupting your operations. APIs and third-party integrations increase the functionality of your app and make it more robust and scalable. Our telehealth development company will smoothly integrate your existing healthcare software into telemedicine apps.

Boost Your Performance With Solutions That Drive Results
With immense expertise and skills in websites, web apps, and software development, SISAGIN stands to bring a change to your organization. Check out our services and hire us today to revolutionize your online presence.
Explore All offers

Android App Development
Our Expert Android app development services are tailored to your needs. Transform ideas into powerful, user-centric mobile experiences with our seasoned developers.

Blockchain App Development
We offer Cutting-edge blockchain app development services to harness the potential of decentralized technology with our expert developers. Empower your business for the future.

Wearable App Development
We are leading the way in wearable app development Services. Explore our expertise in crafting innovative, user-centric applications for the latest in wearable technology.

Mobile Game App Development
Unlock the world of gaming with our mobile game app development services. Immerse players in captivating experiences with our expert game developers.
Key Features
Video consultation

Online scheduling

Medicine order

Medicine reminder

Reviews and ratings


Health education resources

Chat options

EMR

Staff management

Performance management
Why Choose Our Custom Telemedicine App Development Company, India?

Innovative solutions
SISGAIN is a name you can rely on to get innovative telemedicine apps. Our developers are proficient in integrating futuristic technologies to make your apps innovative. We use AI, ML, AR/VR, and IoT to increase the functionality of your apps. Hire our telemedicine software development services today and receive an innovative app.

Domain expertise
We at SISGAIN can proudly say that we are experts at creating telemedicine apps and software. We can create mobile and web solutions for multiple platforms. Our telehealth app development company is also renowned for native and cross-platform apps. Connect today and let us craft your mHealth app.

Extended support
We offer our clients after-sales services as well. To keep your healthcare apps' performance top-notch and maintain their security and speed, we offer regular upgrades. With on-time updates and maintenance, your app will work smoothly and provide your users with the best user experience.
Dedicated developers
We can't stress the skills and intelligence of our developers. We have a team of dedicated developers who are immensely experienced in various technologies. Our healthcare developers continuously educate and update themselves with the upcoming technologies and tools to create apps that surpass your expectations.
Fully Customized Digital Solutions For Your Business
On-Demand App Solution

Elevate your business with our custom app development solutions in USA, delivering on-demand app development solutions tailored to your unique needs.

E-commerce

Empower your online store with our custom app development services, creating seamless and user-friendly e-commerce app development solutions for your brand.

Food & Beverage Solution

Enhance the dining experience with our custom app development services in USA, offering innovative food and beverage app development solutions for your business.

Pickup & Delivery Solution

Streamline your operations with us we're providing efficient pickup and delivery app development solutions tailored to your business needs.

Blockchain Development

Explore the future of secure, decentralized technology with our app development, delivering innovative blockchain app development solutions for your business.

Internet of Things (IOT)

Connect and control IoT devices seamlessly with us, we can create intelligent app development solutions for your connected world.

Social Networking Solution

Build engaging and interactive social networks with our Best app development solutions, connecting users and fostering community engagement.

Healthcare & Medical Solution

Transform healthcare and medical services with our healthcare app development services, providing innovative app development solutions for better patient care and management.

Laundry & Home Services

Effortlessly manage laundry and home services with our custom app development, simplifying tasks and enhancing convenience for users.

Transportation Solution

Revolutionize transportation with our custom app development, delivering efficient and user-friendly solutions for seamless mobility experiences.

Real Estate Solution

Elevate your real estate ventures with us, delivering innovative app development solutions for property management and transactions in USA.

Banking & Finance

Empower financial institutions with our custom app development, delivering secure, user-friendly solutions for seamless banking and finance services.

Education & Learning

Transform education and learning experiences with our Educational app development, delivering innovative solutions for effective teaching and knowledge sharing.

Manufacturing Business Solution

Optimize manufacturing processes with our app development solutions, providing innovative solutions for improved efficiency and productivity in your business.

Enterprise Mobility Solution

Empower your enterprise with our Mobility App Development, delivering mobility solutions that enhance productivity and streamline operations.
Feel free to reach out to us with any additional questions or to learn more about our Telemedicine App Development Services!
SISGAIN exceeded our expectations with their telemedicine app development. The app they created has become an essential part of our healthcare delivery system. The real-time video consultations and user-friendly features have significantly improved patient engagement. SISGAIN's commitment to innovation and quality is truly unmatched.
Dr. Emily Adams
We are extremely satisfied with SISGAIN's telemedicine app. The app they created for us has transformed the way we deliver healthcare services. The secure messaging system and integrated scheduling have made remote consultations smooth and hassle-free. Their attention to detail and commitment to delivering a top-notch product set them apart in the industry.
Mark Rodriguez
SISGAIN has played an important role in bringing our telehealth vision to life. The app they developed seamlessly integrates with our existing systems. It provides a comprehensive solution for virtual patient care. The reliability and performance of the app have earned us the trust of both our medical staff and patients. SISGAIN's expertise in telemedicine app development is unparalleled.
Dr. Sarah Turner
Testimonials
Check what our satisfied clients said
Discover the voices of our delighted clients from USA. See what they have to say about their experiences with us.