Travel App Development Company
Travel apps have reinvented the way people travel. Gone are the days when people had to hire a guide or roam around the city with a map in hand. With a travel and tourism app, one can easily book tickets, find lodgings, and plan the entire itinerary. With extra features like translation services, car booking, GPS-based location services, currency converters, etc., travel apps are making travelers' lives easy.
SISGAIN is a trusted name when it comes to travel mobile app development. We build user-centric and scalable apps that make your trip easy and stress-free. Whether you are taking a jungle safari in Africa or backpacking through Europe, you can travel anywhere with ease if you have a travel app. Our travel app developers are proficient in various technologies and build apps that offer a top user experience.
Reach out to us today and let us build a high-performing travel app that attracts users and generates revenue for you. Upscale your business with our travel mobile app development services.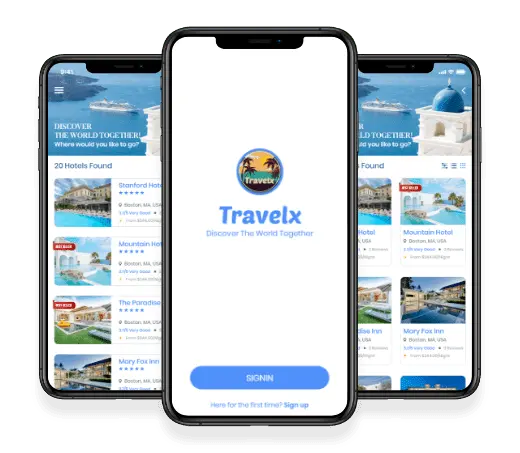 What Are the Benefits of a Travel App?

Ease of booking
With the ticket booking app, users can easily book trains and flights to their destinations. Users can easily reserve seats for a future day, cancel and reschedule bookings, get a seat of their choice, make easy payments, choose meals, etc.

Lodging and accommodation
Finding decent and affordable lodging is possible with a hotel booking app. Users can see and compare different hotels, see reviews, do virtual tours of the rooms, etc. In high season, reservations for rooms can be made in advance.

Easy trip planning
Users can plan an entire vacation with a trip-planning app. These apps help travelers plan their entire trip ahead of time, from restaurants to eat to sights to see. These apps decrease the dependency of tourists on local guides, who often overcharge for their services.

Better customer service
Travel apps have streamlined travel for the general public. Planning a trip is no longer a headache. With everything available online and possible with a few clicks, these apps have propelled travel and tourism businesses.

Wider reach
Businesses have reached a wider audience by providing travel solutions via an app. Apps are the go-to solution for every problem. With our travel app development, let us help scale your business.

Virtual tours and guides
Ravel apps with technologies like AR and VR enable users to have virtual tours of hotels, lodgings, and sites. Customers can check out hotels, restaurants, and even popular sites prior to visiting them.

Boost Your Performance With Solutions That Drive Results
With immense expertise and skills in websites, web apps, and software development, SISAGIN stands to bring a change to your organization. Check out our services and hire us today to revolutionize your online presence.
Explore All offers

Android App Development
Our Expert Android app development services are tailored to your needs. Transform ideas into powerful, user-centric mobile experiences with our seasoned developers.

Blockchain App Development
We offer Cutting-edge blockchain app development services to harness the potential of decentralized technology with our expert developers. Empower your business for the future.

Wearable App Development
We are leading the way in wearable app development Services. Explore our expertise in crafting innovative, user-centric applications for the latest in wearable technology.

Mobile Game App Development
Unlock the world of gaming with our mobile game app development services. Immerse players in captivating experiences with our expert game developers.
Key Features
Technical Expertise

On-Time Delivery

Customized Solutions

Reasonable Pricing


Seamless Delivery

Transparent Operations

Agile Methodology

Dedicated Developers
Our Travel App Development Services

Custom app development
We are gurus of custom travel mobile application development. We build highly creative and intuitive apps for both Android and iOS. Our mobile app developer uses various technologies to create web and mobile applications tailored to your unique requirements.
API integration
Application programming interfaces, or APIs, can boost your app's performance by integrating two or more applications. Our skilled travel app developers can build APIs from scratch or integrate existing APIs seamlessly.

UI/UX
The user interface is important to engage users and offer them a smooth experience. Our UI/UX designers are adept at creating visually appealing apps that are easy to use and navigate. Get a travel app that attracts and engages users.

CRM
With a Customer Relationship Management (CRM) software, businesses in the travel industry can easily store and manage their customer's data. With CRM software, businesses can easily track communications and nurture relationships with their customers.

Migration services
In addition to building new apps, we also undertake to migrate your existing app from one platform to another. Our travel and tourism app development team ensures seamless migration without interrupting your business.

Maintenance and support
Regular maintenance and support are also required for optimal performance of the app. We provide our clients with regular updates and maintenance services so that their app serves them in the long run.
Fully Customized Digital Solutions For Your Business
On-Demand App Solution

Elevate your business with our custom app development solutions in USA, delivering on-demand app development solutions tailored to your unique needs.

E-commerce

Empower your online store with our custom app development services, creating seamless and user-friendly e-commerce app development solutions for your brand.

Food & Beverage Solution

Enhance the dining experience with our custom app development services in USA, offering innovative food and beverage app development solutions for your business.

Pickup & Delivery Solution

Streamline your operations with us we're providing efficient pickup and delivery app development solutions tailored to your business needs.

Blockchain Development

Explore the future of secure, decentralized technology with our app development, delivering innovative blockchain app development solutions for your business.

Internet of Things (IOT)

Connect and control IoT devices seamlessly with us, we can create intelligent app development solutions for your connected world.

Social Networking Solution

Build engaging and interactive social networks with our Best app development solutions, connecting users and fostering community engagement.

Healthcare & Medical Solution

Transform healthcare and medical services with our healthcare app development services, providing innovative app development solutions for better patient care and management.

Laundry & Home Services

Effortlessly manage laundry and home services with our custom app development, simplifying tasks and enhancing convenience for users.

Transportation Solution

Revolutionize transportation with our custom app development, delivering efficient and user-friendly solutions for seamless mobility experiences.

Real Estate Solution

Elevate your real estate ventures with us, delivering innovative app development solutions for property management and transactions in USA.

Banking & Finance

Empower financial institutions with our custom app development, delivering secure, user-friendly solutions for seamless banking and finance services.

Education & Learning

Transform education and learning experiences with our Educational app development, delivering innovative solutions for effective teaching and knowledge sharing.

Manufacturing Business Solution

Optimize manufacturing processes with our app development solutions, providing innovative solutions for improved efficiency and productivity in your business.

Enterprise Mobility Solution

Empower your enterprise with our Mobility App Development, delivering mobility solutions that enhance productivity and streamline operations.
Feel free to reach out to us with any additional questions or to learn more about our Travel App Development Services!
The developers at SISGAIN transformed our travel app idea into reality! We approached the team at SISGAIN to develop a hotel booking app. They thoroughly understood our requirements and delivered the solution that we desired. We are happy with their services!
Michael Roberts
Working with SISGAIN was a game-changer for our travel business. The CRM software that they built for us has helped us improve our relationships with our customers. Now we have successfully managed to retain most of our customers.
Jennifer Thompson
SISGAIN's travel app development services are one of a kind. They helped us build an itinerary planning app. They understood our budget constraints and developed an app at an affordable cost. Our app is widely used now, thanks to the creative developers at SISGAIN.
David Mitchell
Testimonials
Check what our satisfied clients said
Discover the voices of our delighted clients from USA. See what they have to say about their experiences with us.