Hybrid App Development USA
Apps have become the backbone of modern life. We are at a stage where a life without apps would seem impossible. Businesses are thriving, and general users are living comfortable lives off of these apps. Apps are meant to make our lives easier and smoother.
If you are in search of a hybrid app development company, you have come to the right place. Ever since initiating business in 2007, SISGAIN has delivered solutions to multiple businesses. Our expert hybrid app developers make sure that your app works seamlessly on both Android and iOS.
Hybrid apps are apps that can be installed and downloaded on multiple platforms. It allows developers to use the same code for all platforms. Don't let limited availability hinder your business's growth. Instead, go cross-platform and conquer them with a hybrid app. Let our hybrid app development services bring the results you desire for your business.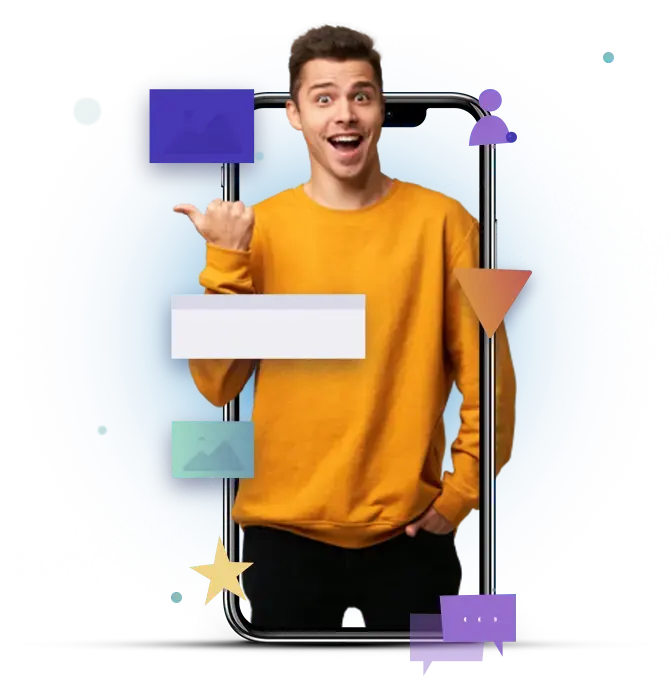 Our Hybrid Mobile App Development Services Include

UI/UX design
The user interface plays a crucial role in determining the overall user experience. Our hybrid app developers and designers are proficient in creating the most visually appealing and easy-to-navigate apps. After a detailed study of targeted personas and user mapping, we create prototypes and wireframes for the end-users.

App migration solutions
If you have a native mobile or web app, our hybrid application development company can easily optimize it and migrate it to hybrid frameworks. Our expert hybrid app developers make sure to carry out this transition without any loss of data, in minimal time, and at a reasonable cost.

App support and maintenance
Our services merely do not end with the creation of hybrid apps. We undertake the pains of regular app maintenance to help your app perform efficiently at peak times. Our after-sales support services will ensure that your app performs effortlessly, even after years of use.

Quality assurance and testing
Our quality assurance team and testers test web and mobile apps manually for user interface, speed, user experience, and other performance parameters. Testing ensures the timely identification of bugs and their debugging. This guarantees that your app is optimized for end users and gives them the best possible experience.

Custom API integration
Our hybrid mobile app development company boasts developers who are efficient at connecting one application or service to another via a custom-built API. Custom-built APIs provide more flexibility and control over integration than pre-existing APIs. Our hybrid app developers offer robust API integration services. enhancing the functionality of your apps.

Boost Your Brand With Our Hybrid Applications - Discover Our Expertise!
Elevate your brand's impact with our high-performance hybrid applications. Check our expertise today and unlock your brand's full potential with our hybrid application development services.
Explore All offers

Android App Development
Our Expert Android app development services are tailored to your needs. Transform ideas into powerful, user-centric mobile experiences with our seasoned developers.

Blockchain App Development
We offer Cutting-edge blockchain app development services to harness the potential of decentralized technology with our expert developers. Empower your business for the future.

Wearable App Development
We are leading the way in wearable app development Services. Explore our expertise in crafting innovative, user-centric applications for the latest in wearable technology.

Mobile Game App Development
Unlock the world of gaming with our mobile game app development services. Immerse players in captivating experiences with our expert game developers.
Your Vision | Our Expertise
Key Features of Our Hybrid App Development Services
Agile methodology
Experienced hybrid app developers

Rapid delivery

Cost-effective solutions


Quality assurance and testing

Transparent communication

Collaborative team

Expertise in cross-platform technologies
Why Hybrid Apps?

Wider reach
Hybrid apps allow a business to reach a wider audience due to their compatibility with multiple platforms. A native app is limited to one operating system, and users have to wait for it to be hosted on their operating system before downloading it. To reach a wider audience, consider our hybrid mobile application development company and get an app that captivates.

Cost-effective
A hybrid app is a cost-effective solution as it needs only one codebase. It will be significantly time-consuming and costly to build two native apps for Android and iOS. Businesses with low budgets often roll out apps for one platform and then develop another app for a different platform. This adds to the cost and takes more time.
Low maintenance
App maintenance is necessary to ensure the smooth functioning of apps. Building different apps for different platforms requires more energy and resources to fix bugs and technical issues. On the other hand, a hybrid app is developed once; therefore, it is easier to maintain. Maintaining a different app for Android and iOS is simply cumbersome.

Easy integration
A hybrid app, unlike native apps, is easier to integrate with other apps. Hybrid app developers require little to no effort to integrate hybrid apps with other apps. A hybrid app smoothly connects with a device's environment, allowing users to use it seamlessly without any glitches. Our hybrid app development services will ensure a smooth integration of your app.
Better UI/UX
A robust user interface is necessary for enhancing the user's experience. Compared with native apps, a hybrid app performs better and faster. Hybrid apps are lightweight and load faster, adding to the user's experience. Hybrid apps rely less on network communication; therefore, they seem to work efficiently despite heavy traffic.

Faster development
The development of hybrid apps is quicker than that of native apps. Hybrid apps use technologies like Flutter, Ionic, React Native, etc., making it easier, faster, and more efficient to develop hybrid apps. Hybrid apps require a single codebase, requiring only half the time a native app needs. This helps businesses launch their apps sooner, giving them a competitive edge.

Enhanced speed
Hybrid apps often work and load faster as compared to native apps. The major reason behind this is that they don't rely on network communication. Twitter, a great example of a hybrid app, works smoothly even with millions of people using it at the same time. Our hybrid app development company can build a faster and more efficient solution for you.

Offline supportn
Users face network issues while traveling or at certain places. Hybrid apps are great as they offer offline availability. They are a great option for people with limited data plans or those who live in rural areas. Hybrid apps can store data locally, which enables them to load data in offline mode. Though users will not have access to real-time data, they still have access to pre-loaded data.
Fully Customized Mobile App Development Services For Your Business
On-Demand App Solution

Elevate your business with our custom app development solutions in USA, delivering on-demand app development solutions tailored to your unique needs.

E-commerce

Empower your online store with our custom app development services, creating seamless and user-friendly e-commerce app development solutions for your brand.

Food & Beverage Solution

Enhance the dining experience with our custom app development services in USA, offering innovative food and beverage app development solutions for your business.

Pickup & Delivery Solution

Streamline your operations with us we're providing efficient pickup and delivery app development solutions tailored to your business needs.

Blockchain Development

Explore the future of secure, decentralized technology with our app development, delivering innovative blockchain app development solutions for your business.

Internet of Things (IOT)

Connect and control IoT devices seamlessly with us, we can create intelligent app development solutions for your connected world.

Social Networking Solution

Build engaging and interactive social networks with our Best app development solutions, connecting users and fostering community engagement.

Healthcare & Medical Solution

Transform healthcare and medical services with our healthcare app development services, providing innovative app development solutions for better patient care and management.

Laundry & Home Services

Effortlessly manage laundry and home services with our custom app development, simplifying tasks and enhancing convenience for users.

Transportation Solution

Revolutionize transportation with our custom app development, delivering efficient and user-friendly solutions for seamless mobility experiences.

Real Estate Solution

Elevate your real estate ventures with us, delivering innovative app development solutions for property management and transactions in USA.

Banking & Finance

Empower financial institutions with our custom app development, delivering secure, user-friendly solutions for seamless banking and finance services.

Education & Learning

Transform education and learning experiences with our Educational app development, delivering innovative solutions for effective teaching and knowledge sharing.

Manufacturing Business Solution

Optimize manufacturing processes with our app development solutions, providing innovative solutions for improved efficiency and productivity in your business.

Enterprise Mobility Solution

Empower your enterprise with our Mobility App Development, delivering mobility solutions that enhance productivity and streamline operations.
I had a fantastic experience working with SISGAIN on our hybrid app project. Their team displayed a deep understanding of our vision and turned it into a stunning, user-friendly app. The app's performance and seamless integration across multiple platforms exceeded our expectations. SISGAIN's professionalism, expertise, and dedication made the entire development process smooth and efficient. I highly recommend their hybrid app development services!
Alex Rodriguez
CEO, TrendyZone
SISGAIN truly delivered excellence in hybrid app development. They not only created a visually appealing and functional app but also made sure it worked flawlessly across both Android and iOS platforms. Their attention to detail and commitment to quality are commendable. Our app has received positive reviews from users, and I credit SISGAIN for its success.
Emily Chang
Founder & CEO, InnovateTech
I'm extremely pleased with the hybrid app that SISGAIN built for my business. The app has streamlined our operations and improved customer engagement significantly. SISGAIN's team was highly responsive to our requirements, and their technical expertise shone through in every aspect of the app. The project was completed on time and within budget, and I couldn't be happier with the results.
James Mitchell
Owner, FlavorFusion
Testimonials
Check what our satisfied clients said
Discover the voices of our delighted clients from USA. See what they have to say about their experiences with us.